Please leave your comment below by guessing what feature will use the Yellow button described in the video. If you can't think of anything just enter what you would really like to see in an in-game leveling guide.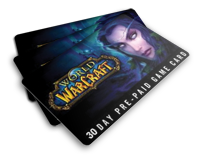 Prizes: 1 of 10 Pre-Paid Game Time for World of Warcraft (30 day)
Contest Rules:
Contest will end when the comment section are closed on Sunday night July 24th.
Winners will be randomly drawn and announced in this blog then contacted by email, so make sure the email you use to comment is correct.
A correct guess of what the yellow button does, will give you a higher chance to win the prize.
1 entry per person please.