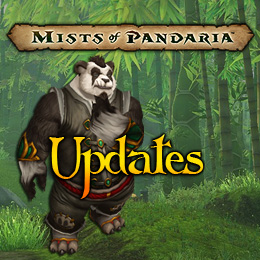 You might already be aware that Blizzard recently announced the release date of Mist of Pandaria to be September 25th 2012, and I'm happy to confirm that we will complete our leveling guide updates before the release date so that all our users will have their leveling guide ready as soon as MoP is released. Here are some important informations regarding our guides…
For All New Purchases: 
Dugi Guides will be offering a grace period of 3 months for free updates for our Mist of Pandaria guides.  This means all new purchase from June 25th 2012 onwards will receive Mist of Pandaria guides update for free.
For Older Purchases: 
Note that all your current guides will still work with Mist of Pandaria expansion, you don't need to purchase the MoP updates to continue using Dugi Guides, but to receive the new MoP guides you will need to purchase the MoP Updates.
Leveling MoP update will be included in one purchase of $20 for single faction or $30 for both faction.
– This will cover Pandaren Starting Zone, All Level 85-90 Zones
– Old customers who inherited our lifetime update promise (purchases before Nov 2008) will receive this update for free.
Daily MoP update will be included in one purchase of $15 for both faction.
– Mist of Pandaria Dailies, Events and any other related content.
Loremaster & Dungeon MoP update will be free.
Achievement & Profession Mop update will require a separate purchase of $15.
– This will cover new achievements and professions up to level 600.
– Major improvements are also coming soon.
Dugi Gold Academy MoP update will be free to all purchase, this will come a few months later after the initial release of the expansion.
The prices above are our special Pre-Order prices which will be available only between September 17th – September 24th, then prices for MoP Updates will increase the same time as the expansion is released.  We will also offer a special sale price for all our existing guides during the pre-order special.
We're really looking forward to MoP, the beta is a lot of fun. If you have any more question regarding our MoP update or anything else don't hesitate to post your question in the comment section below.
-Dugi