Update! Due to popular demand, you can now download Level 1-12 Leveling Guides for WoW Classic for free.
Click the links below to Download the installer for free (no sign-up required) and install the 1-12 Trial Leveling Guides so you are armed and ready for tomorrow!
Windows: https://download.dugiguides.com/DugiGuides_1.4.6.exe
Mac: https://download.dugiguides.com/DugiGuides_1.3.1.zip
We are currently experiencing high amount of traffic in our server, make sure you download and install today, to avoid any delays on launch day.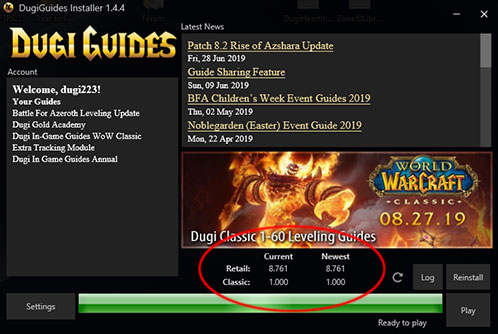 Leveling a WoW Classic character up to the maximum level of 60 is a lot of harder because of non linear questing, no shortcuts (no portals, less flightmasters etc) and tougher quests. Using an in-game leveling guide to for a streamline path to level 60 is again absolutely essential.
World of Warcraft: Classic will be launching August 27th, 2019 and Dugi Guides is now offering full 1-60 Leveling Guides for both Alliance and Horde.
We have updated the Dugi Installer for Windows and Mac to support both WoW Retail and WoW Classic. The Window installer should automatically update and Mac users can download the latest installer from the members area
Classic Price for Classic WoW!
Because WoW Classic will not require many patch updates, we are able to offer the guides as a one time purchase of $37 for the complete 1-60 Leveling Guides for Alliance and Horde.
No monthly fee
Unlimited Use
Free Updates for the 2019 WoW Classic Version
Does not include future WoW Classic expansions like the Burning Crusade, Wrath of The Lich King, etc

$37 – One Time Purchase
FAQ
Is WoW Classic Guide included with my Subscription or Loyalty Program?
WoW Classic Guides is a completely new product for Dugi Guides and we had invested a lot of time and money to create a new addon for the classic server and rebuilt the guides. This will remain as a separate product from the original Retail WoW and will require a new purchase from all members to own.