If you have updated your guides recently, you might have already noticed the major changes that took place with Dugi Guides.
Our latest update have dramatically improved the the formatting of our guides.
Click here to Download latest Version of Dugi Guides
Check out these before and after screen shot examples..
[two_columns_1]
[/two_columns_1] [two_columns_2]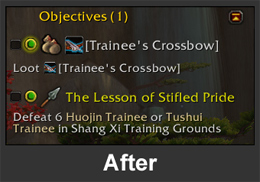 [/two_columns_2]

Example 1: All item name now includes a matching icon and correct item rarity color. And NPC names are also in a different colour.

But the biggest advantage of this new format is the automatic translations for non-english players.
[two_columns_1]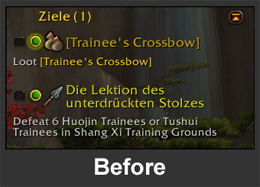 [/two_columns_1] [two_columns_2]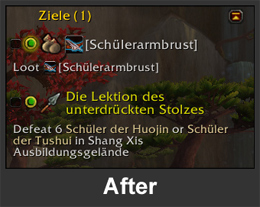 [/two_columns_2]


Example 2: All item, npc, zones, spells, currency names in the description and title will now be automatically translated. Whereas before only the quest names were translated, the above example shows the automatic translation in German.
We also reworked the profession guides to provide you with a better shopping list.


Example 3: The shopping list in the profession guides are now listed nicely with bullet points instead of listed in one line as before. Again the biggest advantage of this is that the item names will be automatically translated again.
With all these changes you will find our guides even easier to follow than ever before giving you the most powerful tool for leveling for progressing your characters in World of Warcraft.
I hope you enjoy our recent updates and as always more updates to come.
Yours Truly
-Dugi