Here is a quick photo (from my phone) of what I have just received in the mail..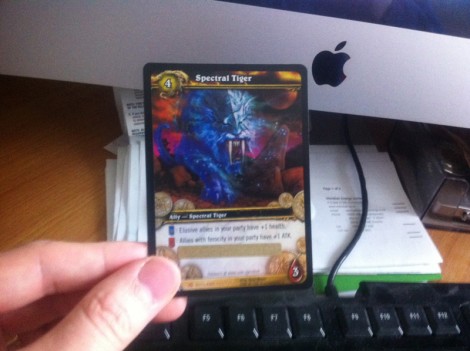 This is the grand prize for our Tiny Treasure Contest  winner, and the current record is 52 TTC in one hour. (That is getting very close to 1 TTC a minute and likely worth around 3500g/hour )
This record is currently held by a Feral Druid farming level 82 Troggs in Fractured Front, Deepholm.
*UPDATE* – Current record has been beaten by Dugiz (me) with 53 TTC.
Looks like Suapmeat will have to farm a little harder to win. 
*UPDATE* 2 – Current record has been beaten again by Zirke with a massive 57 TTC
While this is an unbelievable record, remember some people didn't believe that it was possible to get over 20 when I posted my video during the launch, I think these results below proves it once and for all  that the chest farming is a very effective way to get quick gold 🙂
A list of all the other contestants is available below… by my count at the moment there are about 19 entries and we have 10x Guardian  Cubs to give away which is good odds of winning for the contestant.
There is still plenty of time to beat this record and I will also post my own entry very soon.
Good luck  to all contestant!