[text_bar_1_left background="#444444″ + width="100%"]Dailies & Events guide owners can update to Dugi Guides 5.3210+ for the in-game version[/text_bar_1_left]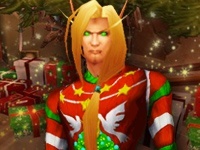 Feast of Winter Veil is hitting servers in the early morning so get prepared to drink some 

 Egg Nog, sit by your 

 Cozy Fire, and open your 

 Stolen Present–wait, what? Is that a new type of present we've found in the database? That's right, like many holidays as of late, Blizzard's changed the classic Winter's Veil into their new format featuring a daily queue and some new prizes. There's also a new holiday gift waiting for you under this year's tree, so this is one holiday you don't want to miss!
2011 Changes
World of Warcraft's version of Christmas has been more or less the same for several years now minus the unique gift every year is known for. This year it has been changed fairly significantly so before we get started with the guide, we'd like to get these out of the way.
There are likely to be even more undocumented changes that we can only tell on the live server, so we will update these as the event goes live, but here's what we know from datamining.
If you've done the holiday in the past, you've likely saved Metzen the Reindeer a few times from a band of intrepid Iron Dwarves who kidnapped him or a group of marauding pirates in Tanaris depending on your faction. This year, however, he's become kidnapped by The Abominable Greench who decided to upgrade from past year's petty larceny to kidnapping everyone's favorite Blizzard employee–I mean reindeer.
As such, the questline 

 You're a Mean One… has accordingly become a daily, in which you save Metzen each day for a 

 Stolen Present which has a chance to presumably contain holiday items as well as an extremely rare chance to contain 

 Lump of Coal which can summon 

 Lumpy. We're not sure if this is a dungeon queue or if you still trek to Hillsbrad for this exchange, so we will update as we find out.
Another change is that the seasonal pets from this year and the past as we previewed a few months back got some holiday cheer. They now have animations when out of season to hearth (

 Green Helper Box), melt away (

Snowman Kit), and be less festive (

 Jingling Bell). Presumably this means they have special animations for the season as well, so be sure to take those guys out–remember, they no longer cost a 

 Snowball to summon so you have nothing to lose!
Last but not least, this year's reward from underneath the tree in your faction's capital city is a 

 Gaudy Winter Veil Sweater. Oh, Blizzard. And if you don't want it, you can always exchange it through the optional quest 

 Thanks, But No Thanks. This sweater also comes with its own achievement to serenade enemy capitals (

 A-Caroling We Will Go).
Table of Contents
Festivities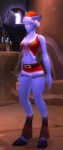 All of Azeroth and beyond have gotten into the spirit of Winter Veil! Winter Revelers can be found inside inns throughout the world located under a sprig of mistletoe. Simply /kiss a Reveler (it doesn't matter which gender) and you will be rewarded with a token of their gratitude. You can only /kiss a Reveler once every hour, as you will receive a debuff along with whatever gift they've granted you, which can include:
These items are used in various Winter Veil achievements (as detailed below).
Become a Little Helper!
In addition to the Smokywood Pastures vendors located inside the cities, the goblins have set up strange PX-238 Winter Wondervolt machines which can be used to change your character into a festive Little Helper! The buff lasts for 30 minutes but is removed by shapeshifting or death (another sad holiday to be a druid). You can refresh the duration of the buff at any time by stepping into the Wintervolt machine. You can also do this to change gnomes costumes until you get one that you like. This disguise is required to complete the achievement 

 With a Little Helper from My Friends.
Snowball Fights
Everyone's favorite annoyance (now knockdown-free, remember), the 

 Snowball can be purchased from vendors or looted from piles of Holiday Snow found on the ground in the Alterac Mountains, near where you fight The Abominable Greench.
Hunt a Winter Hat
During the Feast of Winter Veil, certain humanoid bosses now sport a festive holiday hat! The following bosses will drop a 

 Green Winter Hat or 

 Red Winter Hat upon their defeat:
The winter hats also have an extremely low chance to drop from any humanoid mob in the world; I wouldn't hold your breath but who knows–you could get lucky! In previous years, both heroic bosses (but not normal ones) in Northrend and Cataclysm dropped hats–it should follow the same trend in 2011. If you're unlucky winning rolls, seems your best bet is to try to solo a Northrend heroic boss.
Crafting Recipes
Players with 

 Leatherworking, 

 Tailoring or 

 Cooking may find that they've received mail from Greatfather Winter written on festive stationary. Oddly enough, the Alliance Greatfather sends the gifts to both factions – a free recipe! Tailors will receive either 

 Pattern: Green Winter Clothes (Horde) or 

 Pattern: Red Winter Clothes(Alliance), Leatherworkers will receive 

 Pattern: Winter Boots and Cooks will recieve 

 Recipe: Hot Apple Cider. There are certain skill level requirements for each recipe to be mailed, but if for any reason you did not receive a recipe, don't worry–the recipes can be purchased at vendors in the major cities, as listed below.
Gift-Giving
The most exciting part of Winter Veil comes near the end when we get our presents! The presents under Greatfather Winter's tree can be opened from December 25 to January 2. There are a total of six presents that can be "opened" by completing the quest given by the gift itself under the tree – 

 A Carefully Wrapped Present, 

 A Festive Gift, 

 A Gaily Wrapped Present, 

 A Gently Shaken Gift, 

 A Ticking Present and 

 A Winter Veil Gift. Every year has brought a new special gift in the 

 Winter Veil Gift! What'd we get this year? A [

 Gaudy Winter Veil Sweater! (And if you've missed out on previous special gifts, check out toy vendors like Jepetto Joybuzz–they sell replica items like 

 Red Rider Air Rifle and 
Blue Crashin' Thrashin' Racer Controller.)
Each of the gifts contain an assortment of special holiday items:
Quests
This year Winter Veil was updated to have some new quests, so be sure to check it out. The The Abominable Greench has been changed this year and we'll update the guide more as we find changes on live.
All Winter Veil quests can be obtained in your faction's major city (Orgrimmar or Ironforge). Other than start/end NPCs, the quests are essentially exactly the same for both factions.
Seasonal Goodies
There are a number of items that are only available during the Feast of Winter Veil. Smokeywood Pastures vendors can be found in all major cities selling a variety of holiday goodies, including a plethora of food and drink items, wrapping paper, and even some seasonal recipes! Please note that the three of the recipes are Bind on Pickup, and as such (of course) cannot be sold or traded. This means that it is not easily possible for Horde players to obtain 

 Pattern: Red Winter Clothes or for Alliance players to obtain 

 Pattern: Green Winter Clothes.
However, since the vendors are enterprising goblins, belonging to the Smokywood Pastures "faction," they are all friendly to both Horde and Alliance. This means that the most intrepid reveler can manage to sneak into the opposing faction's city and purchase all recipes. You can even stay mounted up while purchasing them, for a quick getaway.
If you aren't a crafter or you're not very keen on flying around the other faction's city, the holiday clothes are not Bind on Pickup (or even Bind when Equipped) and therefore can be bought, sold and traded via the Auction House.
Food & Drinks
Smokeywood Pastures food and drink vendors can be found located near a faction's Auction House in every major city. Copperpinch vendors can be found in Horde cities, and the Jinglepocket vendors can be found in Alliance cities. An additional Copperpinch vendor can be found in Shattrath City, Olnayvi Copperpinch.
They sell the following items:
General Goods
Smokeywood Pastures "general goods"-style vendors can be found right next to the food/drink vendors. Copperpinch vendors can be found in Horde cities, and the Jinglepocket vendors can be found in Alliance cities. An additional Jinglepocket vendor can be found in Shattrath City, Eebee Jinglepocket.
They sell the following items:
Be sure to stock up on the holiday wrapping paper, as it's the only time of the year you can buy it! Otherwise, you're stuck with 

 Red Ribboned Wrapping Paperand 

 Blue Ribboned Wrapping Paper from General Goods vendors throughout the year.
Patterns
In addition to the seasonal goods listed above, the vendors located in the two major cities (Orgrimmar and Ironforge) will also sell a tailoring pattern to create festive winter clothes and a leatherworking pattern to create matching boots!
Penney Copperpinch in Orgrimmar or Wulmort Jinglepocket in Ironforge sell:
Achievements
With each event comes new achievements every year, like 

 A-Caroling We Will Go! There's also a player title granted to those who can obtain 11 core achievements–Merrymaker! Some are easy, and others more of a challenge, but here's everything you need to know to be on your way to becoming that much more festive.
This guide is courtesy of wowhead.com