This is why I hate making promises and announcing frequent updates.
While beta testing the addon we discovered quite a few serious errors and made us scratch our heads, aswell as some important standard features that are missing. I would really hate to release something that is going to be worse than v3 even thou our income is suffering.
I'm pleased to say that we have created a new addon from scratch,  we don't want anymore copyright issues.  So we're not taking any chances with using any code from TourGuide.
Here is a screenshot to prove to you that the addon is infact real 🙂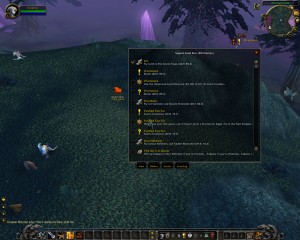 We're still working on the cosmetics so don't worry, it will look better than that,  its hard to reinvent the wheel but it will be better eventually.
So we have quite a list of things to do mostly fixing the bugs and add missing features,  and unfortunately this will take a bit of time, as I have said on the forums next Monday could be the worse  outcome and looks like we're heading that way.
I really appreciate the support that people have given us ,  we have a mission to make this the best guide and addon available and always the best value (even if it means we have to give it away for free).