There are going to be a few changes with Dugi Guides when patch 4.3 is released.
Miniblob Change
The first change is the removal of our built in Miniblob (minimap quest area highlight) feature, as it is now built in with patch 4.3 client.
[two_columns_1]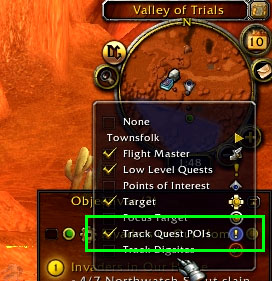 [/two_columns_1] [two_columns_2]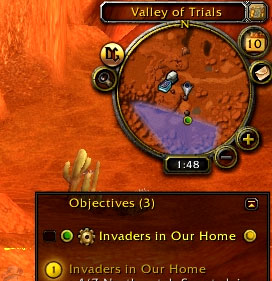 [/two_columns_2]
To turn on this feature in patch 4.3 you will need to click on the default tracking button by your minimap and select Track Quest POIs  and the quest area highlight will appear just like our Miniblob feature but better because it will work in combat, more detailed and smoother.
New Dungeon Guides
The second change for Dugi Guides is the complete remake of our dungeon guide for for Outland (60-70) and Northrend (70-80) dungeons because Blizzard have updated the dungeon questing to similar style as the Cataclysm dungeons which means you no longer need to complete a series of quest chains to receive the dungeon quests.
We have already updated all our guides to match the new Dungeon quest for patch 4.3 and we also added a lot of extra dungeon guides which was previously missing from our guides. And we have added entrance location for people that like to complete the dungeons for achievements.
Essential Mode Feature
And we will also have an exciting new feature with the addon called the 'Essential Mode'  which we will likely finish in time for patch 4.3
The Essential Mode is a new mode for Dugi Guides to make the addon useful even if you're not using any of our guides. We want our users to be able to use the addon smoothly without guides because our addon have a lot of cool feature that in our opinion is essential for questing.
When you switch on the Essential mode, the addon will be able to run on a low memory settings because no guides or database will be loaded and you can easily use these  features..
Waypoint system with ant trail (with manual control, route creations etc)
Map Preview
Auto sell grey items
Auto quest accept
Objective tracker border (cosmetic)
Map fog removal
Coordinates display
and lots more features to come later, you will have the options to turn off features that you don't want in Essential Mode. Hopefully with this new mode Dugi Guides addon will be a permanent addon that you use rather than unloading it when you don't need the guides.
I will post a new video to explain in detail on how it works as soon as its ready.
And as always we're open to suggestion of what you think is essential for leveling or questing in general, post a suggestion in our comment section below and help us make an awesome questing addon for you.
Patch 4.3 Preview
Also if you don't know what to expect with WoW Patch 4.3 then I highly recommend you watch the videos by akamikeb BFF report below for a quick catch up on..
Transmogrification and how it works
The three new 5 man Dungeons
Darkmoon Faire 4.3
Quick Summary of  Darkmoon Faire 4.3:
Darkmoon Faire is only available for 1 week each month, usually the first week of the month (check in-game calendar.
6 New Pets purchasable with Darkmoon Tickets
2 New Mounts purchasable with Darkmoon Tickets
Level 1-80 Heirloom items are also available with Darkmoon Tickets to save you from grinding Honor or Justice Points  for heirlooms.
Once a month easy Profession quests which will give you +5 Skill points no matter what level you're at, available for all profession. Extremely handy to help you max out your profession to level 525 and save a lot of gold.