I often get this question from new users that have just started and want to get a max level character as soon as possible.
What is the best / fastest / easiest Race & Class combo in for Leveling in World of Warcraft?
After years of playing and leveling dozen of characters and creating leveling guides, my answer will always be…
Night Elf, Hunter
The Night Elf racial ability provide the most important abilites…
Quickness provides 2% chance to dodge and 2% faster movement speed both extremely helpful and Night Elf is the only race with a movement speed bonus which will help a lot for leveling. In the latest expansion you can stack movement speed bonus from gears and enchants.
Shadowmeld. This is perhaps the best leveling ability because of a couple of reasons:
It will instantly remove you from combat.
Don't you hate it when you complete your quest and you just want to mount up and turn in your quest but you keep drawing agro from creatures in the area keeping you in combat until you kill them.  With Shadowmeld you can simply use it and it will instantly remove you from combat, mount up and be on your way.
You can AFK safely anywhere in the game without logging out.
Don't you hate going AFK for a moment only to come to a dead character because you got killed by a creature or worse, other players. With Shadowmeld creatures and players won't be able to find you (hopefully) when you're AFK.
If you die often. A Night Elf will become a Wisp Spirit  which is extremely handy because you can run back to your corpse 75% faster. I found this surprisingly useful while leveling 90-100 in Warlords of Dreanor beta because leveling with the boosted level 90 gear is actually pretty hard to solo due to deadly creatures and group quests. I really think Blizzard intentionally made leveling more challenging for this expansion.

Hunter is the class of choice for leveling because it is very easy for new players to pick up. It is also easy to stay alive as a hunter because you're able to attack from a distance and you have a pet that can tank for you which will allow you easily solo elites / rares and complete group quests on your own.
Feign Death is also great ability to avoid deaths, removing yourself from combat and it's on a short cooldown.
A Warlock can also play similarly to a hunter because of their range attack and pet. But Warlocks are much more complicated to play and as a cloth armor class they are soft and can die quickly depending on the talent spec you choose.
See this screenshot that even Blizzard agree Hunters are good for Leveling and Soloing 🙂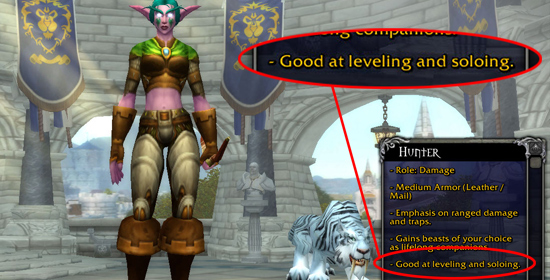 That's it! hope you enjoyed this newsletter and have safe travels in Azeroth
-Dugi