Hi everyone, this is  quick post to talk about the new Bonus Objective quest which appears in the new level 90 – 100 zones (Dreanor).
Bonus Objectives icons will show up on your map like this….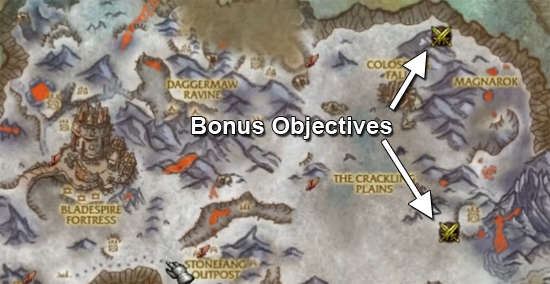 and these quest will automatically appear in your objective tracker when your character is within the area.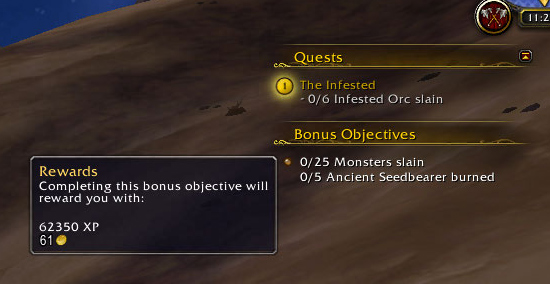 Bonus Objectives are not required for you to complete to progress the zone but I do recommend doing them because…
You can complete them a long side of regular quests.
Bonus Objectives typically worth 3 – 5 times more XP and Gold than your regular quests.
You can get an achievement for completing all the Bonus Objectives in the zone and all of Draenor.
The extra XP definitely makes them worth doing but it does come with some draw backs…
It can be a bit "grindy" and will take you a bit longer to complete than your reqular quests.
Some of them is hard to reach (without flying mount), difficult to complete and not worth your time.
But if you're good at rounding up the npcs and kill them quickly then you will receive big XP bonus for leveling without slowing you down much.
Going out your way to complete the Bonus Objectives early will often be a mistake because you should complete them at the right time with regular quests.
We got you covered with this because in our new Warlords of Dreanor90 – 100 leveling guide update, there will be steps that will recommend the best time complete the Bonus Objectives because it is best when you're in the area and also able to complete multiple quests at the same time. 
We are on track with our Warlords of Dreanor leveling guides updates and it will be available the moment the expansion goes live.
Click here to sign up for Dugi Guides
Hope you enjoy this post
-Dugi