Ok here goes my first Daily Blog 🙂
A couple of days ago Blizzard announced (below) that the we can now earn conquest points up to your weekly maximum from Battlegrounds alone.
In patch 4.3 we're changing the daily battleground (BG) to reward 100 conquest for a win (up from 25). In addition, every non-rated BG that you win will also give you 50 conquest. There is no limit to how many BGs you can run this way, up to the normal conquest cap.
Our intent is to start acting even more on our Mists of Pandaria philosophies of encouraging players to approach the content they want to, how they want to, and be able to work toward meaningful player progression. Arenas and rated battlegrounds will still earn Conquest faster, but with this change you can now work your way up by running normal BGs, if you so choose.
What does this means?
You can now reach your weekly cap of 1350 (or more) conquest points by winning 20 random battlegrounds.
I was a ******** arena player during TBC and WOTLK but when Cataclysm arrived I played more casually. This is mostly because I dedicated most of my time working on Dugi Guides and lately I have been spending more time on my Warrior again.
Anyway from a PVP player POV I think this is a GOOD change and I absolutely love it!
There was some negative reactions from a some players that perceived this change as bad because it provide yet even more welfare gear to bad players and encourage more botting.
I think those people are forgetting that you still need to WIN to receive the conquest points. I played enough battlegrounds to know that every single player matters for you to win a battleground. If you're not pulling your weight in battleground then the chances of your team winning decreases.
Maybe with the exception of 40 vs 40 Battlegrounds (Alterac Valley, Isle of Conquest) where it is possible for a few AFK players to be carried by the rest of the team but you can only win the Conquest points by doing Random BGs and botters are not able to selectively choose Alterac Valley over and over again for Conquest points.
I have a ritual to win one random BG per day so I can earn the current bonus honor and 25 conquest points and also for fun. As a good PVP player I always play to win but no matter how good I play… sometimes I can still loose 5 or more BG in a row (see screenshot)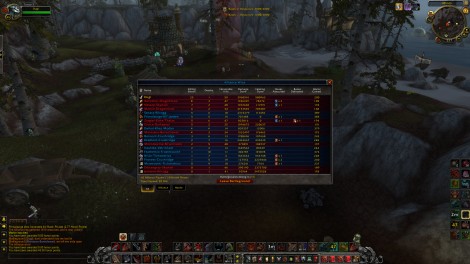 Each game will typically last for 20-30 mins or more… so in a bad day earning 100 conquest points from a Battleground win can take up to 2.5 hours. That is still an extremely hard way to earn your conquest points as it will only take a 2v2 arena player no more than 10 minutes to earn 180 conquest points from 1 win.
Well what I'm trying to say is that, bad players and bots have less chance of winning a battleground as your participation do matter. If you don't win then it will take you a long time to earn your Conquest point gear.
Skilled Arena and Rated Battleground players still have a huge advantage of being able to increase their weekly cap and earn over 2000 conquest points per week with much less time playing.
-Dugi