Level 85 yet ? 🙂
I'm very sorry to everyone that tried to purchase or access the members area earlier today,  one our hired programmers broke it just as I went to sleep  and he was unable to fix it himself. So I woke up this morning to a broken website…
Well everything is now fixed as you should be able to access the members area to update your guides, or to make any new purchase.
https://www.dugiguides.com/download/
Build 4.4323 – December 8th 2010
– Cataclysm Leveling Guide
* Fix unticking problem for all level 80-85 guides
* Minor fix with Goblin 1-5 guide.
– TomTom
* Updated to Latest version v40000-1.0.8.
While I'm emailing you I though you would like an update of what we have been up to. This is a screenshot of our new addon installer, which will make updating even easier again.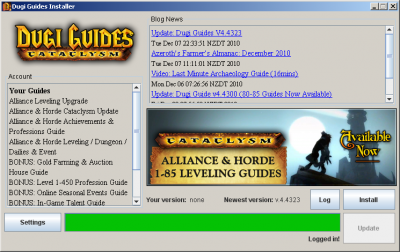 With this new installer, updating will be a breeze  and we will be able to distribute updates much more frequently without spamming your inbox with update notices.