Patch v4.0.3a "The Shattering"  is coming tommorow! and you will need to update your addons and guides!
At the same time our Pre-Order sales is available right now,  head out to the pre-order page right now for a limited discount for our Leveling Guides.
https://www.dugiguides.com/preorder/
All Leveling Guide Price have been reduced by $17 and old members will also receive a further discount for the upgrade, login into the members area right now to upgrade your guide to Cataclysm.
This offer will only last until November 30th and after that it will return back to the standard price.
"The Shattering" will release the free update to Cataclysm 1-60 Leveling Guides, the 80-85 will be available closer to December 7th
To update and pre-install the guides to v4.0.3a please follow the instructions below
Find your World of Warcraft\Interface\AddOns\ folder
Delete the folders DugisGuideViewerZ and TomTom
Download DugisGuideViewerZ and TomTom by clicking the download button
Download all the paid guides that you own aswell (optional)
Run the AddonInstaller.exe
Drag and drop the all the zip files that you have just downloaded into the white box of the AddonInstaller.exe
Click install
Load World of Warcraft and make sure that Dugi Guides Viewer v4.40 and TomTom are ticked
Enter the game,  (you may recieve a one time error due to the old guides dissappearing, close the error box and it should work)
Also a special surprise we manage to finish one of our cool new feature in time (see screenshot below) which is a 'Set Waypoint'  button which come in handy if you somehow loss your waypoint arrow or if you want to reset your waypoint without ticking and unticking the step or if you want to set a waypoint from any other step that is not your current step.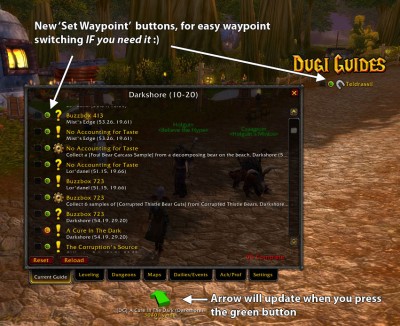 Say good bye to old Azeroth forever *sniff* 🙁 and enjoy new Azeroth after "The Shattering"
– Dugi