It has been a few months since our last statement regarding our legal conflict with TourGuide and Zygor.
Our statement we posted in our blog was left completely unchallenged.
Zygor instead have removed their public defamatory statements from their forum against myself and UltimateWoWGuide.com and we never heard from them again.
We also have good reason to believe that the TourGuide license to Zygor has already expired on May 2nd and that TourGuide has now returned back to Tekkub's ownership, refer to the screenshots below.  Tekkub has removed the ZygorGuides.com notice on his GitHub, WoWInterface and Curse page on May 2nd.
As Tekkub has mentioned on his website "if the deal ends in the future, rights will return to me"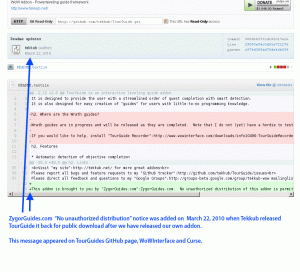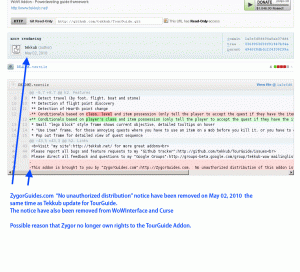 I contacted Tekkub to confirm this and I requested him to tell us the full story, however this is the only response that I have received.
Dugi >> Tekkub   –  May 27th
Hi Tekkub, now that the contract is over are you able to comment at all and fill us in on the full story? would you mind an interview?

Tekkub >> Dugi –  May 27th
Frankly, I just want to move on. You have your new version of your guide, Zygor has whatever, everyone is happy(ish).

Tekkub didn't respond to any more of my follow up emails.
Without any further communication from Tekkub or Zygor, I'm not able to confirm this to be 100% true, but Tekkub's last email neither confirmed or denied that the contract is already over, however the evidence above  suggests that the contract is finished.
We also have evidence that Zygor has been posting on our forum and blog pretending to be a regular disgruntled customer during our troubled times.  Zygor did try to hide his true identity by using a different name and email to create an account with UltimateWoWGuide, but our evidence shows with 100% certainty that this person is none other that Zygor (John Cook) himself, as we manage to trace him using his past refunded receipts and ip address which leads back to his full name and home address in Ohio.  Please refer to the screenshots below for examples of his posts while we were working hard to build a better addon to replace TourGuide.
All his posts posing as a regular customer still exist in our forum, click here to view them

Against all odds UltimateWoWGuide still fulfilled our promise to our customers.  Within a few months we managed to build and design our new free addon with outstanding new features  as well as introducing a brand new dungeon leveling guide.
We have proven ourselves to be the leader of in-game guides by bringing you a Dailies & Events a year earlier than Zygor.
We have proven ourselves again by bringing you a Dungeon Guide first and maybe in a years time Zygor will follow us again.
We focus all our energy on our guides and our customers, we don't waste our time & money by attacking our competitors with empty lawsuit threats and posting on their forums using fake identities.
Zygor promised their customers a TourGuide implementation to their addon and assurance that their actions are morally and ethically correct.  If Zygor no longer owns the rights to TourGuide then this is a lie to their customers and the public, so far they have done nothing with TourGuide other than to use the ownership rights against UltimateWoWGuide.  It seems that Zygor has now returned it to Tekkub after realizing that they have wasted their time & money on Tekkub and Lawyers.  And the evidence above can speak for their morals and ethics.