Hi everyone,  I'm happy to announce that the Legion 98-110 Leveling Guides are available to download now.
To get the new beta leveling guides simply update Dugi to the latest version with our automated installer available here https://www.dugiguides.com/dgmembers/

We don't normally release expansion guides this early as we would like to work on them as much as possible to ensure we provide a smooth guide on day one. But due to numerous requests from our users wanting to tests the guides on the Beta servers, we decided that it's a good idea to release it early so our users can help us to fix any major bugs with the guide.
This will also allow us to ensure that everyone has their guides ready on day one and reduce the risk of our servers crashing due to the sudden spike in traffic.
Note: These guides won't work on the current live servers until the official Legion Expansion release on August 30th.
Players with Legion beta access will be able to use the guides on the WoW beta servers right now to test the guides. Please report any bugs you encounter it in the bug report forum  or skype (DugiGuides). We would really appreciate it 🙂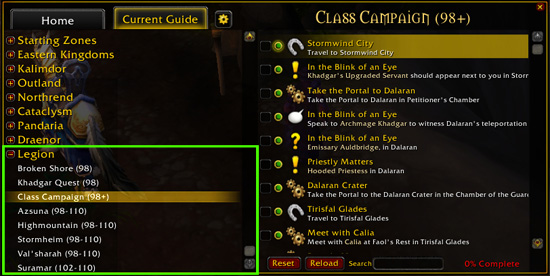 Available Now:
Demon Hunter starter guide
Class Campaign guides
– The guide will automatically change depending on your character's class
– Includes Broken Isles intro and all artifact quests
– Includes Campaign quest for up to level 110
98 – 110 Leveling guides covering all Broken Isle Zones
Suramar level 110 guide
– Required to unlock World Quests at level 110
Broken Isles Treasures and Rare creatures tracking
– Requires Extra Tracking Module purchase
The Legion updates do require a paid subscription or "Legion Update" purchase
Subscribed members will automatically receive all the Legion updates as they are released
Old members without subscription will need to purchase the Legion Update (Available Now)
Click here to purchase the Legion Update from the member's area
More Legion guides for Dungeon,Professions, Achievements etc are coming soon and will be included with your subscription or purchase
Enjoy the update!
-Dugi