Hi again everyone, it's Dugi here and I'm sorry we have been quiet for sometime but I can assure you the wait has been worth it 🙂
This new feature took up much of our time and money the last few months and it is almost ready for release.
When the new Gear Finder feature is released you will be able to find the green upgrade arrow button it in your character frame tab which will enable the gear finder frame and begin searching gear upgrades for your character.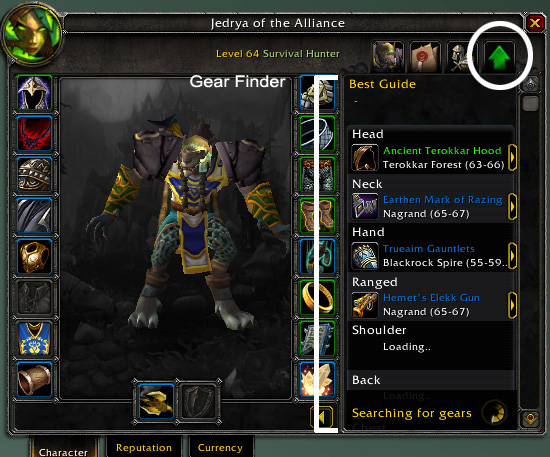 You may have seen a similar feature from one of our competitor but we added 4 major improvements over their version.
1) We have improved the UI to be a lot more user friendly displaying the item icons and source of upgrades.
2) Dugi Gear Finder will also search gear upgrades from quest rewards in reqular leveling zones (competitor version only search from dungeon npc drops). This is massive improvement since this have added several thousands more items into the database to search as the best upgrades are not always from dungeons.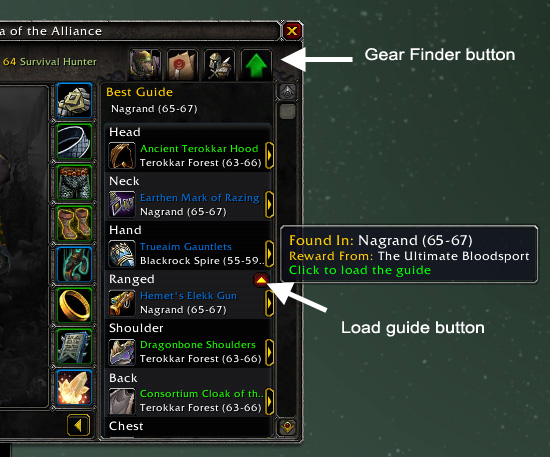 3) Often the first choice may not be suitable for you for whatever reason eg, you have already done that dungeon or you just don't want go to that zone. Which is why we have added a "Load more suggestions" button, which will show you 5 more sources of upgrades for the slot providing more options to find alternative upgrades.
4) If an item is not found for your current level then it will search for possible upgrades for your future levels. You can see in the screenshot below there are some items labeled in red @ Level xx.  This will allow you to plan ahead and so you know that "yes I will get a new item upgrade from that zone at xx level"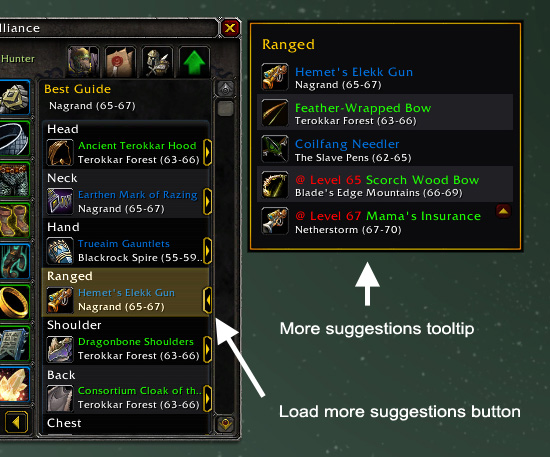 Also a disclaimer: The gear finder is a large feature and it requires an intense amount of calculation due to the large number of items that we must have in the database. A lot effort have gone into improving its performance and it will be something that we always keep an eye on.
It will use a lot of memory during the game and with the combinations of all other addons you might use, players with old computers might notice a performance drop with their game. However if you don't like this feature and you can simply turn it off in the settings menu and it won't take up any additional resource.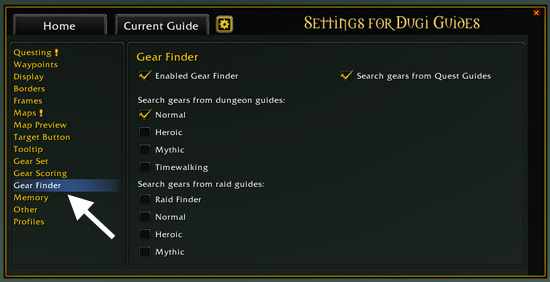 ok that is it for now, I will notify you again as soon as the feature is release.
-Dugi
PS. If you have any questions or suggestions please don't hesitate to add it in comment section below