Our in-game event guide for Love is in the Air is now available.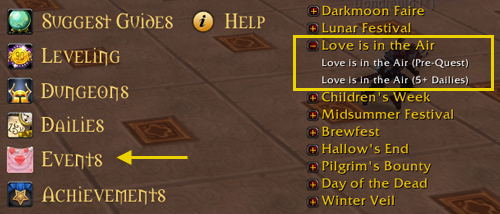 This is a WoW event that celebrate valentines day on Feb 2 – Feb 16.
Update your Dugi Guides now and you will find two new guides under the Event tab. The in-game guides are a free update and contains the prerequisite quest required for you to complete the dailies and will also allow level 100 players to queue for the event boss that can drop a

 Big Love Rocket. mount!, and we have also update the guide for the dailies available for this event.
Love is in the air received minor updates in 2018:
The Crown Company necklaces are up to ilvl 880.

 

Weathered Heirloom Scabbard

 costs 450 Love Tokens.

You likely have to be 98 or higher to have a chance to acquire the 

 

Big Love Rocket

, found in the 

 

Heart-Shaped Box

.

Love is in the Air holiday items can be transmogged 

for the duration

 of the event.
Love is in the Air received a number of updates in 2017:
You no longer have to be maximum level (110) to queue up for the Crown Company. The minimum level to queue up for Shadowfang Keep via the Dungeon Finder is level 16, so have fun farming the

 

Big Love Rocket

.

Loot rewards are now appropriate to your level, similar to how Timewarped loot works. For example,

 

Winking Eye of Love

is ilvl 830 at 110, and scales down if you loot it at a lower level.

Crushing the Crown

is now a daily outside Shadowfang Keep. In the center of this area is a piece of paper which starts the

Follow the Recipe

daily quest. This rewards 3

 

Crown Co. "Kure-Everything" Tonic

which transforms you into a zombie. Also in this area are

 

Love Potion No. 8

to control a Crowne Company employee for a minute.

There are new toys:

 

Love Boat

for 270 Love Tokens and

 

Sturdy Love Fool

for 100 Love Tokens.

The Love is in the Air wreaths and bouquets have received high-resolution updates.
Link: Wowhead's Love is in the Air Guide
Please download our latest installer below and update your Dugi Guides
https://www.dugiguides.com/dgmembers/