Our in-game event guide for Love is in the Air is now available.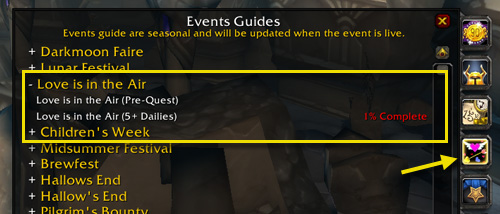 This is a WoW event that celebrate valentines day on Feb 10th – Feb 23rd.
Update your Dugi Guides now and you will find two new guides under the Event tab. The in-game guides are a free update and contains the prerequisite quest required for you to complete the dailies and will also allow  level 90 players to queue for the event boss that can drop an epic rocket mount! , and we have also include a guide for all the dailies available for this event.
Special Note:
This year, there are updated ilvl 480 epic amulets for defeating Apothecary Hummel, as well as battle pet abilities for Peddlefeet and Toxic Wasteling.
If you have a lot of money and don't feel like farming Love Token, you can buy Lovely Charm Bracelet from other players and exchange them for Love Token at any Love is in the Air rewards NPC 

without any limit

. If you really want to show off on your server and be the first with the mount, that's the way to go.
The Swift Lovebird mount and the 

Truesilver Shafted Arrow

 companion pets are 

not

 bind on pick up and can be bought at the Auction House. Obviously, it also means the event is a good opportunity to farm something valuable and sell it if you're short on cash.
Don't forget the other mount, Big Love Rocket from the daily dungeon encounter!
Link: Wowhead's Love is in the Air Guide
Please download our latest installer below and update your Dugi Guides
https://www.dugiguides.com/dgmembers/