Children's Week 2017 runs May 1st through May 8th! This holiday boasts 10 cute battle pets for players to collect, as well as the challenging PvP achievement

School of Hard Knocks.
If you already have all the pets, be sure to pick up

 Pet Care Package–the reward for repeating the holiday, even if you can't get any pets!

 Pet Care Package is new to 2015 and contains a variety of items including pug costumes like

 Big Pink Bow,

 Magical Pet Biscuit, and

 Flawless Battle-Stone.
Simply update your Dugi Guides to with our installer (available in our download page below)
https://www.dugiguides.com/dgmembers/
You will find the guides in the Events tabs. This new update is jam packed with Children's Week quest guide for Azeroth, Outland and Northrend aswell as an extra achievement guide.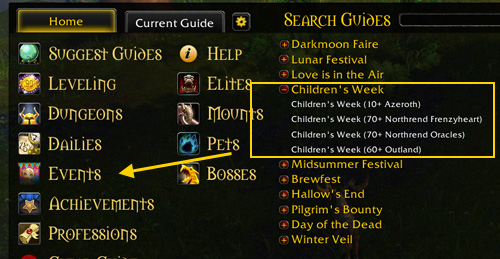 The highlight for this event are the….
Companion / Battle Pets!
You can get one pet from each chain per year. If you already have all the pets, you can get 

 Pet Care Package from completing the quests.
Orgrimmar/Stormwind
Shattrath (Outland)
Dalaran (Northrend)
Check out Children's Week on wowhead for more info.
Have fun!
-Dugi