Hi everyone, today we released a brand new feature that will greatly improve the old fashion waypoint arrow system which is usually a combination of animated 3D arrow and a waypoint dot on the map.
We wanted to improve the old system by making it work and feel like google map style navigation and what we came up with is the new Dugi Zone Map.
With the latest update, you can enable this feature by simply going to the settings menu and tick the Enable Zone Map option.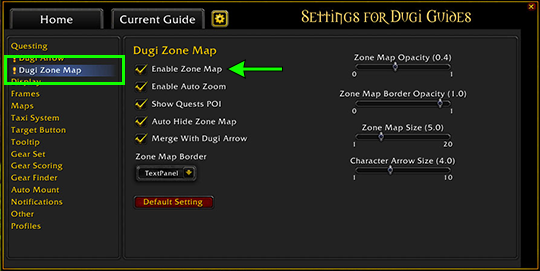 You should immediately notice the 3D arrow is now replaced with a small map and you will be able to use that to help you navigate to the waypoint.
The Zone Map will automatically zoom in / out so you can always see how far the next available waypoint.

By default, the Zone Map is a combined with the 3D arrow which will appear your character is at about 35yd range to provide greater accuracy at close range while you will get the advantage being able to see the map surrounding while traveling to your destination.
Check out the 2 mins video presentation below for a quick demo on how it works
The feature is still a work in progress, we would really appreciate any feedback at all (positive or negative) and we'll do our best to improve it.
Enjoy!
-Dugi