We have been recently served with a DMCA complaint signed by John Cook owner of Zygor Guides of Zygorguides.com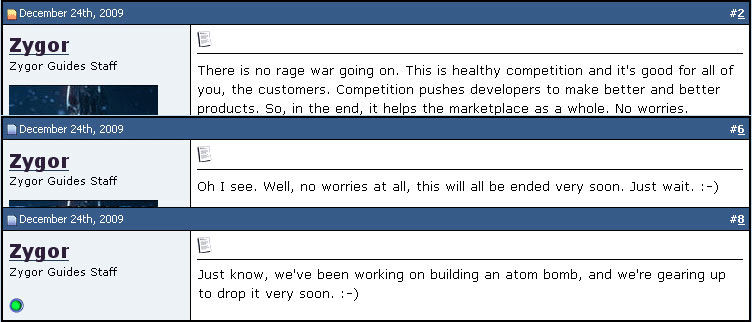 John Cook claims that Zygor Guides have bought the rights to the public addon TourGuide which we used as the based addon for our leveling guide viewer. And they are demanding that we remove the modified TourGuide addon that we use from our website to Which we must comply. This news came at a very short notice for us to react.
As for our history with TourGuide, we have written permission from the author of TourGuide known to us as Tekkub Stoutwrithe to sell guides for the addon, he was also aware that we distribute a modified version and he was fine with that. As far as we know he is not affiliated with Zygor at all. We have also been donating money to Tekkub to support the addon, but recently Tekkub have stopped updating his TourGuide and removed it from his public github and website such curse and wowinterface. He has also stop responding my emails regarding TourGuide.
I wouldn't be surprised if Tekkub have received a large sum of  money from John Cook (Zygor) and signed some sort of agreement to not disclose any information regarding this hand-over to anybody, as he didn't leave any statements anywhere.
We're still waiting to see the proof documents regarding the hand-over of TourGuide to Zygor before we will fully comply with their demands.
It is strange that Zygor acquired the rights to TourGuide when they have already developed their own leveling guide addon, my guess is that the sole purpose of all this is to eliminate all their competition that use the TourGuide addon (Dugi, TeamIdemise, Spugnort, Penns, Gavin)
I am amazed and disgusted that Zygor would go into such length of actually investing money in an effort to eliminate competitors and monopolize the market. I guess this is what they call 'healthy competition'. My definition of 'healthy competition' is sending more time & money into improving the product and marketing, not by attempting to sabotage your competition.
I'm dissapointed that this was the mentioned 'Atom Bomb', I actually though they were finaly going to release a Daily Quest guide that they promised their customers almost a year ago.
Coincidently we have already begun building our new addon from the ground up before John Cook filed his DMCA complaint, so we're not too stressed about the whole situation. Our aim is to make it better that TourGuide with a lot of new features that I wish we had previously, we're hoping to release it by next week.  So its official that Dugi's Guide v4 is coming soon!
Our Customer FAQ
Will there be a charge for the new update?
as always updates to the addons will be free of charge to all our current customers.
Is this a free addon, will it comply with Blizzard's Policy?
yes this will be a free addon and it will comply with Blizzard's Policy, but the files will only be hosted on dugiguides.com
What are the new features?
at the moment we're focused on getting the addon working 100% with new ui design and also better guide selection menu. Then we will focus on new things like Auto Translation and linking chain quests.
A message to Zygor,  I hope your investment and reputation is worth it.