[text_bar_1_left background="#444444″ + width="100%"]Dailies & Events guide owners can update to Dugi Guides 5.1530 for the
in-game
version[/text_bar_1_left]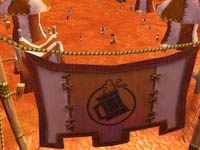 Sept. 20th – Oct. 5th 2011
Celebrated by both the Horde and the Alliance, Brewfest is a time to enjoy the fermented fruits of the harvest: pretzels, cheese, and booze! The competing breweries Thunderbrew, Barleybrew, and the Ogres, all come together outside of all the major cities in a bid to outdo each other with their special ales, meads, and beers. Brave adventurers are invited to sit back, take a pull, and sample the finest wares these brewers have to offer!
During Brewfest, players can acquire the title Brewmaster, collect fun mounts like

Swift Brewfest Ram, and get epics like

Coren's Chilled Chromium Coaster. Major quest hubs are located outside of Ironforge and Orgrimmar.
Brewfest, based on Oktoberfest, runs from September 20 through October 5. Our very own Miyari put together an excellent guide for the holiday, covering every achievement there is as well as the series of dailies the event offers.
This year, trinkets and other items have been upgraded to ilevel 365 and are definitely worth checking out!
Table of Contents
Brewfest Quests!
Ram Racing Quests
Daily Quests
Brewfest Loot
Quests completed during Brewfest will award

Brewfest Prize Token which can be redeemed for items by speaking to either Blix Fixwidget or Belbi Quikswitch, located at the main Brewfest camps outside of Orgrimmar and Ironforge, respectively. These items can also be purchased during Brewfest from the Brew of the Month club vendors found inside the two cities, Ray'ma or Larkin Thunderbrew. Here is a full list of the items they have for sale.
Item
Cost
Blue Brewfest Hat
50
Green Brewfest Hat
50
Brown Brewfest Hat
50
Purple Brewfest Hat
50
Brewfest Dress
200
Brewfest Slippers
100
Brewfest Regalia
200
Brewfest Boots
100
Brewfest Keg Pony
200
"Brew of the Month" Club Membership Form
(Alliance or Horde)
200
Blix's Eyesight Enhancing Romance Goggles or Belbi's Eyesight Enhancing Romance Goggles
100

Limited duration

5

Limited duration

Fresh Brewfest Hops

2
Preserved Brewfest Hops
20
Brewfest Pony Keg
100
Pint-Sized Pink Pachyderm
100
Coren Direbrew, The Grim Guzzler and the Dark Iron Dwarves
Brewfest veterans surely remember the exploits of one Coren Direbrew, found deep inside Blackrock Depths' Grim Guzzler bar. This year, Coren Direbrew has been buffed to level 85+ and is back with new loot.
You can queue up to kill Coren Direbrew using the Dungeon Finder tool at level 84. Upon killing Coren Direbrew for the very first time, he will drop a quest item,

Direbrew's Dire Brew, which starts the quest

Direbrew's Dire Brew (Alliance version). Turning in this quest will award 40

Brewfest Prize Token.
On your first kill of each day, you will earn Justice Points and also be awarded a

Keg-Shaped Treasure Chest, which has a chance to contain awesome items. You will be awarded 19 86 at level 85, as well. You can get only one

Keg-Shaped Treasure Chestper day, so there is no longer a point to farming the boss once you don't need any of the trinkets he drops. Simply queue up and kill him once per day per character for your chance at the mounts or other rare items.
Coren's Loot
Coren Direbrew himself drops epic quality (item level 365) trinkets which are similar to those sold by the Molten Front vendors. These trinkets are unique, so they can be used one after another after a normal "use" delay of 20 seconds. Once again, these items cannot be disenchanted, so no free

Maelstrom Crystal.
Coren also has a chance to drop +510 stamina trinkets that summon the Brewmaiden who will heal your party or the ***** Brewmaiden who will chuck beer at your enemies! In addition, both maidens can be /wave'd at to receive free brew!
The first time you defeat Coren Direbrew each day, you will be awarded a

Keg-Shaped Treasure Chest. This treasure chest has a chance of containing Coren Direbrew's non-trinket drops (y'know, the awesome stuff). You can even get more than one of these items in the same chest, or less happily, a duplicate item you already own.
Remember you will be rewarded just one chest daily, so that's only one chance per day at all of the more rare drops.
Brewfest Achievements
Brewfest is more than just standing around dressing funny and drinking grog! In the midst of the unruly behavior and excessive consumption of alcoholic beverages, there's a title to be earned–Brewmaster. For many players, completing the Brewfest achievements will finally earn them

What A Long, Strange Trip It's Been, so expect to see even more

Violet Proto-Drakes flying around.
This guide is courtesy of wowhead.com