Azeroth's Farmer's Almanac: October 2010
---
Welcome to October, one of the more popular months of WoW. First up is the completion of the Brewfest event on October 6th. Yes, it is a sad day indeed when all the drinking ends, Hopefully, if you read this in time, you will have completed nearly all your achievements for this event. Most of which takes time, showing up every day, doing the three dailies, and biding your time. If you are fortunate to be level 78 or higher, then queue up the DF for Direbrewfest and queue often. Two marks of Frost a day for a event that takes two minutes to complete is nothing to scoff at.
Our local retailers are suggesting that Cataclysm's release date is in November. That means this is the last full month of seeing Azeroth as we remember it. Save up those vendor run purchases, unload your core item list (and start saving again), and do as many troll/gnome quests as you can. With the new expansion the trolls and the gnomes will have a new starting point with new quests. Even the Orcs and Night Elves are finding a new place (level 10+). If your goal is to try to get exalted with either faction, find all the old noob quests and then do all the new ones. Because once they are gone….
Speaking of which, keep an eye out on Phase 2 of the Pre-Release Events. Smart money is on the empty week between world holiday events, but you never really know with Blizzard.
Then we have Hallow's End. Mages get ready to port, or if you have a two man mount, you can charge a "Candy Tour" of Azeroth, Outland, and Northrend by visiting each candy bucket in the inns for the Trick and Treats achievement. For those of you attempting to complete the Masquerade and Check Your Head achievements, queue into a Battleground and nail everyone in your party (don't worry, you'll get nailed, too!). Make a marco with the jack-o-lantern and hit every enemy you see to complete your list (or just linger around Dal long enough….).
Make no doubt that Hallow's End is the next to top event of the year. Expect everyday to be packed. If you have some dungeons that need to be completed or some raids to take care of, these days are your best chances. Also look for new pre-release events. Keep crafting weapon and armor enchantment scrolls and high mana and health potions. A lot of level 80's are going to creep into the scene, so that's your target customer.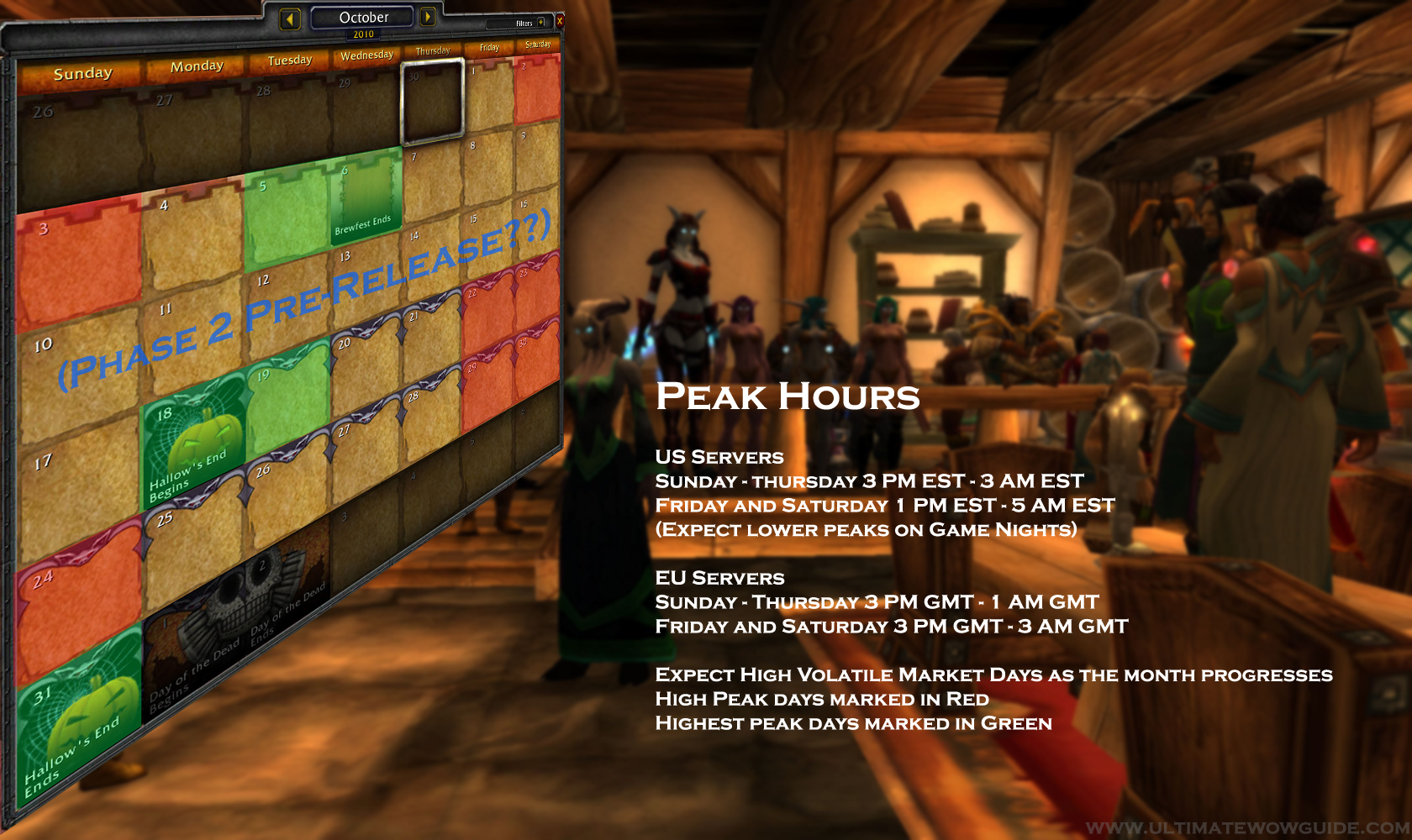 *(Game Nights include American Baseball Playoffs and American Football Sundays)